​

Did you know that we are an industry leader with income per agent?
Did you know that we train our agents to not only handle residential but also help them with marketing commercial, office, apartments and retail?
Did you know that we have a commission structure, bonus levels and profit sharing that leads the industry.
---
Real Estate Career Testimonials
To request a Career Brochure which further details the steps to your Real Estate Career with us, please enter your name and email contact info here - contact page - and type Career Brochure in the comment section.
For more information about the Tuition Scholarship Program, enter Tuition Program in the comment section or call 513-347-2033.
---
To sell real estate in the State of Ohio, you must obtain a real estate license from the Ohio Division of Real Estate. In order to become licensed a prospective associate must:
Complete four real estate pre-license classes. You can contact local colleges like Hondros College or other professional schools for schedules. The classes can be completed in as short as 6 weeks if taken full-time.

Broker sponsorship

A passing score on the Ohio Division of Real Estate examination.
• back to top •
---
What Are The Initial Costs To Get Started?
The pre-license costs vary from school to school but it is safe to assume that the initial pre-license investment will be between $1400 and $1600. We have a tuition scholarship program at Hoeting that enables you to fully recover your pre-license class costs.

After obtaining your license, Hoeting Realtors requires you to join a local board of Realtors, the Ohio Association of Real Estate and the National Association of Real Estate.

As an associate with Hoeting Realtors you must also join the Cincinnati Multiple Listing Service. By joining the MLS system, information about thousands of properties will be available to you.
• back to top •
---
Who Will Train Me After I Am Licensed?
At Hoeting Realtors we feel that extensive training is essential to your success as a sales associate. Once you have successfully passed the state exam you are ready to enter into Hoeting Realtors's two part training program, called our QUICK START program:
The first part of Hoeting Realtors's Quick Start training gives a newly licensed Sales Associate the ability to rapidly accelerate to a fully proactive Associate. The total program uses a combination of approaches, with continuous reinforcement both in the field and in the classroom, to build the knowledge, skills and attitude necessary for developing a successful sales career in real estate. The QUICK START training is based on the company's conviction that success results from building a knowledge base through teaching and self-study and developing appropriate skills and attitude through field practice, continual coaching and counseling.

The second part of our Quick Start training brings a new Sales Associate into a structured educational and motivational environment to provide the tools and training to get the Sales Associates up, running and earning an income in the first 30 to 90 days after entering the program. Phase two is a nuts and bolts program. The Sales Associate will be coached on everything from conducting open houses, personal marketing and listing presentations.
• back to top •
---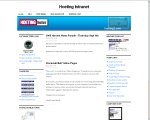 Hoeting Realtors equips each agent with the latest tools and technologies to be successful. The company website enables agents to have individual agent web pages and includes lead generation. In addition each agent has separate company email, efax, and contracts/disclosure zipform accounts. Document scanning, voicemail, and an in-house Intranet with links to important local real estate sources allows our agents to access all they need to succeed. We also actively promote agents, community involvement and company business on social media outlets including Facebook, Instagram and LinkedIn.
• back to top •
---
Some key questions to ask your self when considering a career in real estate:
Can I make the financial commitment to get started?

Does commission-only income fit my lifestyle?

Am I willing to make a fulltime, 100% commitment to a new career in real estate?

Can I commit to the extensive training schedule offered?

Do I have the discipline to schedule my own work?

Am I a professional who is committed to personal growth and development?
Contact Mike Wright or Steve Florian at 513-451-4800 today to get started!
• back to top •